The Disney J1 Australia and New Zealand Cultural Exchange Program is a five to twelve-month experience. Participants have the opportunity to gain real world work experience with a world-renowned entertainment company, learn skills from Disney leaders, meet people from around the world and take part in a life-changing experience - all as you live at Flamingo Crossings Village, owned and managed by American Campus Communities.
Flamingo Crossings Village includes upscale living spaces, resort-style pools, a full-service fitness center, community-building common areas, and exceptional educational facilities.
Please find below the eligibility requirements for the Australia/New Zealand Cultural Exchange Program:
To be eligible to apply for the Australia and New Zealand Cultural Exchange Program, you MUST
Attend a live presentation and interview in Australia or New Zealand - details will be shared at a later date.

Likely interview cities are Sydney, Melbourne, Brisbane, Adelaide and Perth in Australia and Auckland, Wellington, Hamilton, and Christchurch in New Zealand. Please note that these are subject to change though and if you are selected to interview you will schedule your specific interview at a later date.

Speak English fluently.
Be at least 18 years of age to apply.
Be receptive to Disney Look guidelines.
Be fully available to work Sunday through Saturday, including days and nights, holidays and overtime.
Applicants must be a citizen of Australia or New Zealand currently enrolled full time at an accredited post-secondary, classroom based academic or vocational institution physically located in Australia or New Zealand and have successfully completed at least one year, or equivalent, of post-secondary academic study. Recent graduates of a degree program from a post-secondary college/university within the last 12 months are also eligible for participation.
Candidates are required to attend a presentation and in-person interview in Australia or New Zealand.
** Note the most updated qualifications will be listed on the application when it is posted.
Roles in this program
may

include: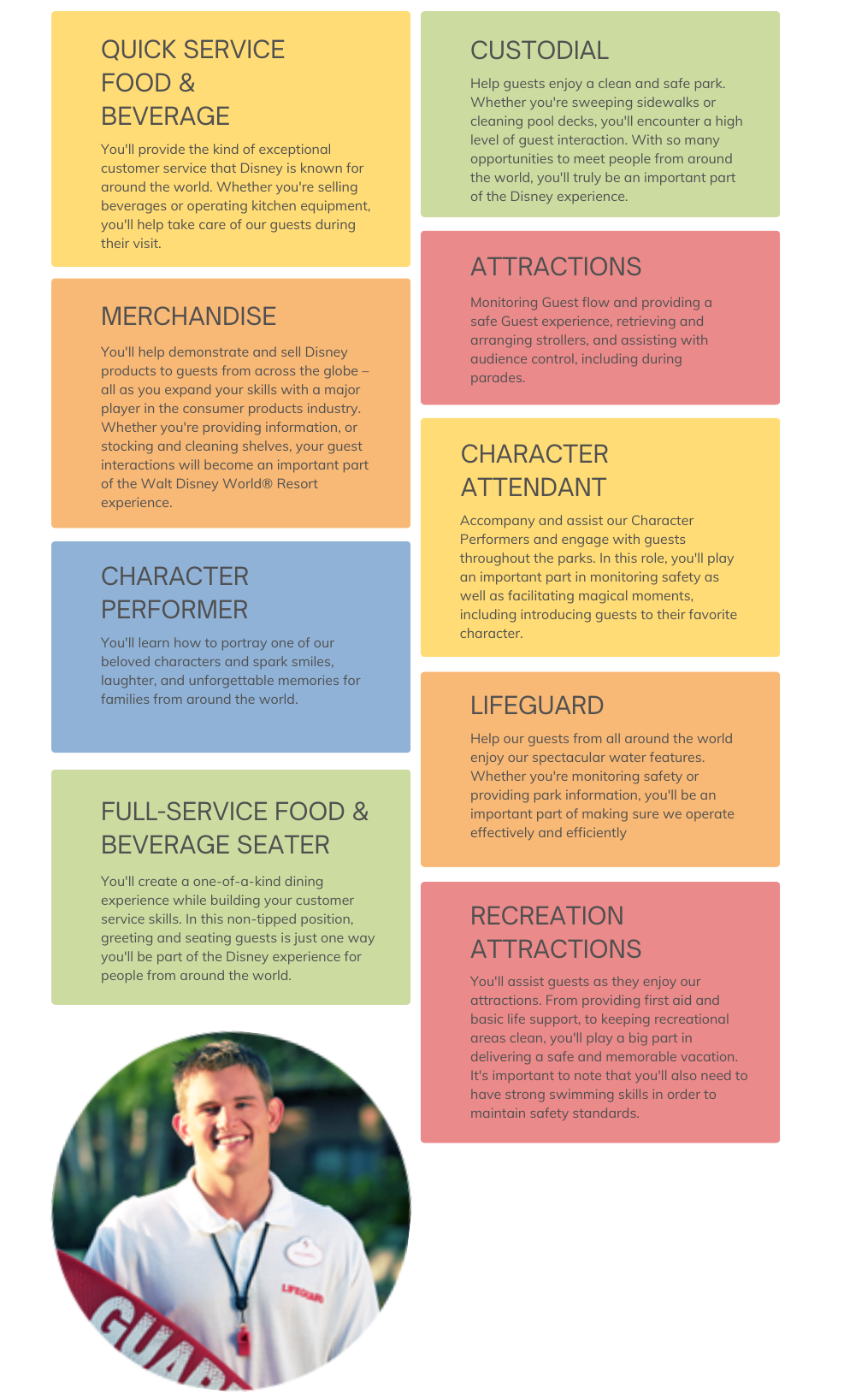 Participants work in front line, guest-facing roles throughout our Parks & Resorts. No matter what you're studying in school, we have a role that matches your interests, skills, and goals – all while interacting with guests and sharing your culture.

If application is not yet available, click here to sign up to be notified of when they open!