Whether you are here because your child or loved one is interested in applying, is about to begin their program or is just looking to learn more -- welcome! And thank you for taking some time to learn more about our program. A Disney Program is truly what you make of it, so we always encourage our participants to take advantage of all their resources and opportunities while they're here! See below for a few important resources and tips to help your participant make the most of their program: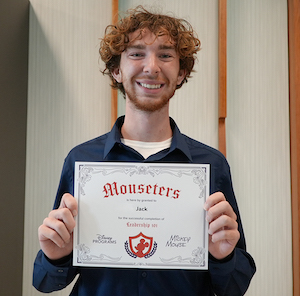 LEARNING
Academic Support
Disney Programs provides a variety of resources and tools for current college/university students on a program, including Independent Study Hall (Dedicated time off for school classes) and exam proctoring. Participants can submit requests for these resources at Support.DisneyPrograms.com.
Learning and Career Development Offerings
The learning component of the program is designed to give participants comprehensive, experiential learning opportunities that provide an unparalleled enhancement to their academic and professional careers. This includes instructor-led experience, experiential learning and more. They can find opportunities to sign up for by visit DORMS.Disney.com
Learn more about the learning component here.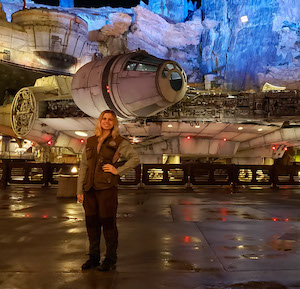 EARNING
Transportation
We provide complimentary transportation around Disney property! The Passio GO! app is a great way for participants to stay on top of the latest bus schedules and changes.
Program Champions
Programs Champions are leaders and executives at our Parks and Resorts who serve as the go-to resource for all things Disney Programs in their work locations. Programs Champions have direct lines of contact to the Disney Programs team and help ensure that participants are able to make the most out of the Disney Program experience by answering questions, supporting participants and enriching the participant experience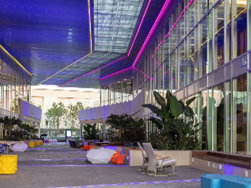 LIVING
Flamingo Crossings Village Team
Flamingo Crossings Village is owned and managed by American Campus Communities. Their team is an amazing resource for questions about housing, roommates and more. They are available 24/7 in both the East and West Community Centers. You can learn more about Flamingo Crossings Village on
their website.

Program Advisors

Your participant is assigned a dedicated advisor who is here to help answer questions and provide support throughout their program. Their advisor sent them an email before they arrived introducing themselves – they are a great resource for any questions your participant has!


Program Resource Guide

Make sure your participant knows about their Program Resource Guide! They can find it on DORMS and/or the HUB, as well as in the introductory email they received from their Program Advisor. This includes information about work, program opportunities and additional resources available to them.


DORMS Activities Calendar

We offer a variety of events, activities and trips that participants can enjoy throughout their time here. They can see the latest events by visiting DORMS.Disney.com.


Social Media

Follow along with the program on our Instagram, @OfficialDisneyPrograms and TikTok, @DisneyPrograms! There, we share the latest news and updates for our participants on the program.

Support Site

Does your participant have questions? They can utilize this site – Support.DisneyPrograms.com – to reference FAQs and speak directly with our team by submitting a request at the link above!


Employee Assistance Program (EAP)

EAP offers a confidential counseling service for Cast Members.


Arrival Day!

Check-in begins at Flamingo Crossings Village and can begin as early as 8 am. All required items and location information for each appointment are located on the participant's itinerary which is unique to them.
For more Arrival Day information.


Disney Look

Our themed costumed Cast Members are a critical part of enhancing the experience of our Disney show.
Additional information on Disney Look.