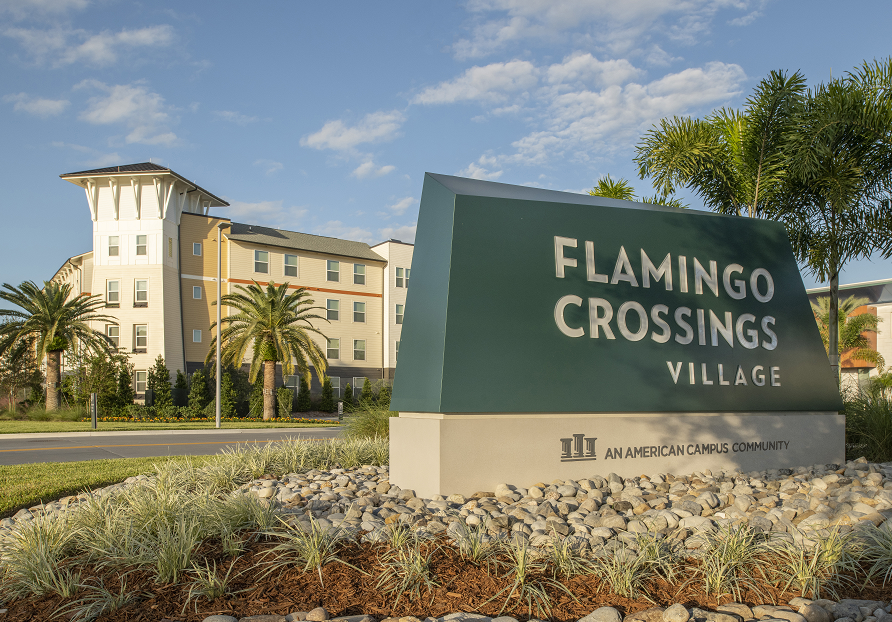 Flamingo Crossings Village owned and managed by American Campus Communities, is located approximately one (1) mile west of the Walt Disney World® Resort. Two- and four-bedroom apartments are available which include single bedroom/bathroom or shared bedroom/bathroom options. Each apartment will accommodate no more than two participants per bedroom and no more than four participants per apartment. All apartments, common areas, and hallways are designated non-smoking.
The address for Flamingo Crossings Village is:
13335 Hartzog Road
Winter Garden, FL 34787
Apartment Details / Amenities
Each apartment comes furnished with the following items*
Bedroom

Individual dresser
Side table
Twin XL bed - 2 bedroom apartments
Full XL bed - 4 bedroom apartments
Individual closet
Lockable drawer

Bathroom

Tub or shower
Shower curtain liner or door
Individual sink
Medicine cabinet

Living Room

Couch
End table
Coffee table
Smart TV w/ HDMI hookup

Kitchen

Countertop & barstools
Individual food pantry
Assortment of pots & pans with lids
Dinner plates & bowls
Dinner knives, spoons & forks
Drinking glasses
Waste & recycling bins

Appliances

Refrigerator with icemaker
Stove, oven & microwave
Dishwasher
Washer & dryer

Community

iMac bar
Multi-purpose study rooms
Swimming pools
Fitness center
Basketball court
Volleyball court
Gaming room
Grilling stations
* All items are subject to change
In addition, Flamingo Crossings Village offers the following:
All utilities, including water, electricity (with cap), and waste disposal
Maintenance of the apartments
Electronic key entry to property, common areas and your apartment
Wireless internet access in all apartments
Onsite Courtesy Officers and Community Assistants
24- hour packaging room
There are no nurses or medical facilities in the housing community.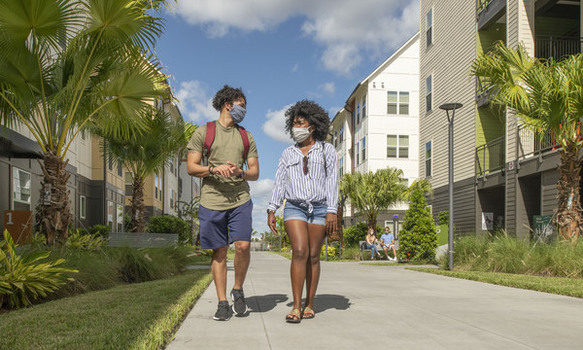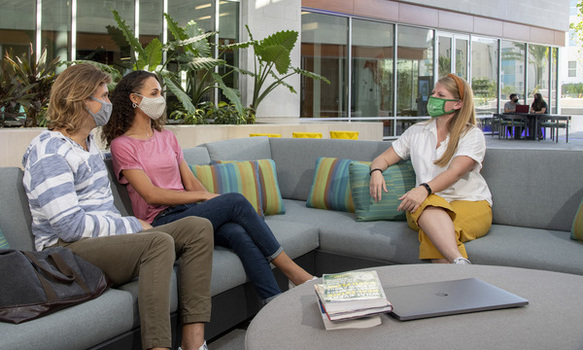 Registration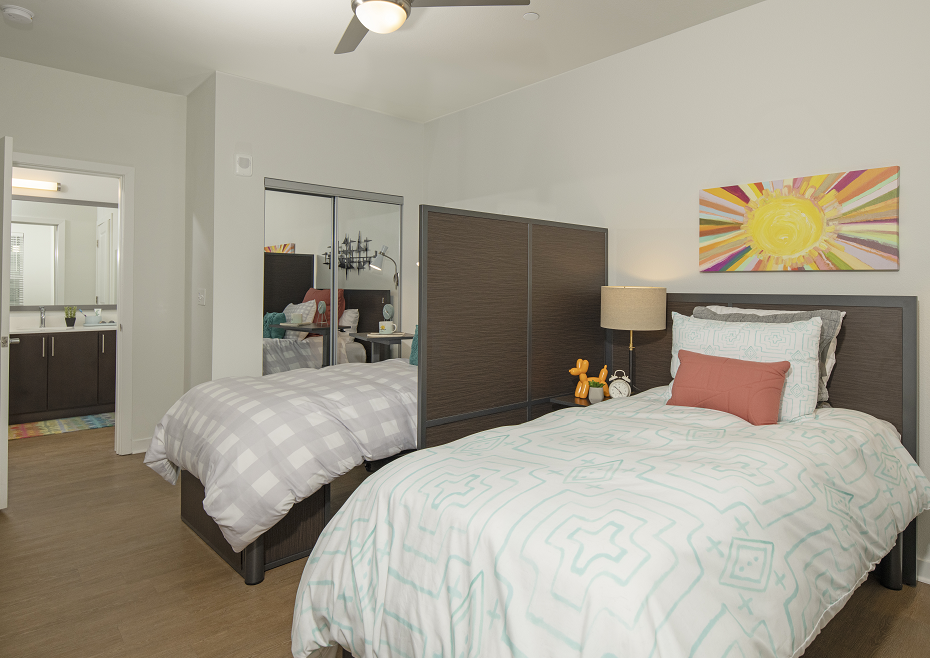 Prior to arrival, participants will receive an email with information on accessing DORMS DORMS (Disney Onsite Resident Management System), our program registration site. Through DORMS, participants may have the option to indicate their preference for apartment type, roommate, and parking.
Additional Information
Parking

Participants wishing to bring a vehicle must register their vehicle and will be charged a decal fee. As parking is limited, if you do not have a decal, you will not be allowed to park at Flamingo Crossings Village. Please note, your decal is only valid through your current program and must be renewed if your program is extended.

Program Activities

Participants have the opportunity to take part in a variety of activities throughout their program, including uniquely Disney events, social activities and learning activities such as career development offerings and offsite trips.

Insurance

Renter's insurance is not mandatory; however, we strongly encourage securing renter's insurance including coverage for personal liability, as it is the only reliable source of financial compensation should any possessions be damaged, lost, or stolen due to fire, theft, flood, vandalism, loss of power, or any other unforeseen act.

Meals

Meals will not be provided in the housing complex or in your work location; however full-service employee cafeterias, which provide meals at reasonable prices, are located at most work locations.